How To Remove All The Fears With Premarital 

Counselling 
Marriage – the word itself brings goosebumps to my belly! It is not a life-changing event; in fact itself, it is a re-birth of a new you! The hook-up needs love, understanding, responsibility, and efforts on part of both the individual  Everything changes. All the equations undergo a change with introducing so many members of the family. It is a lifelong commitment, and you have to take this responsibility till your last breath. Wait. I'm not saying all this to scare you more. I just want you to realize the reality of life and what we should do to make a marriage successful. The first and most important thing is to abandon all the nervousness and fears related to the marriage and the associated responsibilities. 
Of course, I know you have elders and parents who are there to guide you always. But there are family counsellors as well who give you advice and therapies to understand the relations, remove all fears and live a happy married life. I am among some of the renowned marriage counsellors in India who can help with premarital fears and issues. I have already helped many couples to sort out their differences and also take counselling sessions for those who are going to tie the knot soon. In my own life, I faced so much, fought all alone, overcame all my fears and I have also decided to share that confidence with others so they can enhance their life with joy and happiness in life. I offer knowledgeable sessions and therapies that give the love birds a soothing feeling, remove all fears and make them confident to walk on this unforeseen path.
What is actually the approach followed by the counsellors?
The first thing the counsellor does is to investigate the issues which led them to come here for counselling. They try to learn about the

fear of their mind

, the reason for nervousness or anything else that is troubling them regarding their questions.

The couples are free to ask any question and share all of their deepest feelings and fears with them. Some fears faced which trouble they are:
How to handle family stress:

In-laws, extended family, friends all become a part of our life and play an important role in a marriage. What kind of role they exhibit, Responsibilities towards them is discussed by the anxious couples.
Managing Finance

: Everyone has a different nature. Some are more spendthrift than others. Also, the standard of living differs from family to family. How to adjust to this budgetary issue and spendthrift nature also becomes a major fear for some.
Job and house

:

Couples are faced with many decisions in marriage—where to live, how much money to spend, if and how will they manage if both are in a job, just to name a few. Before walking down the aisle, it is a good idea for couples to agree on what types of decisions need to be made together and how they will go about making such decisions. The fear of changing jobs is very disturbing for all the pairs.
Family planning:

It is always better to clear up beforehand as if what their perspective regarding kids. Will they wait for some years or will opt to plan a family immediately? Sometimes the couples are fearful about the pressure that may be imposed on them for family planning right after the marriage.
How to handle Personal space:

Seldom do we develop a fear that all the private space of the individual is curbed by the partner and they will not leave him or her with any personal time. Of Course with marriage we take vows of living and dying together but that does not mean that the individuals have to sacrifice all their individual space. Of course, both of them have their friends and priorities, and both have to understand that.
The counsellors may opt for one-to-one discussion or may work on them as a unit; depending upon the

fears to be addressed

and how grave the situation is.

Then each of the individuals is given a chance to speak up about their marriage plans, what are their expectations and what qualities they have always imagined in their future cohabitee. This helps in incorporation more mutual understanding,

redefining all the fears, and making the picture clear. It is difficult but not impossible to become the 'outstanding two' with the expert counselling sessions of the life coach.

Each partner will also have the chance to describe their ideal marriage and any steps they have taken toward that goal or any challenges they see barring its achievement. In joint sessions, partners can

discuss these fears together

and with the help of the therapist, explore ways to cope with these and any other challenges that may develop over the course of the marriage.

The interactive session is made real fun with so many hot topics, gossip, interactions, storytelling and much more. If everything goes well with full commitment and spirit to mend up everything; the counselling turns out to be a boon and helps in constructing a concrete bridge between the pair. 
Premarital counselling addresses all the fears as it:
Identifies fears early:

Early recognition of fears and finding their solutions strengthen the base of the building on which it is to be constructed. When you already know about the expectations and are clear about the forthcoming plans, there is no major reason left for any resentment and misunderstanding.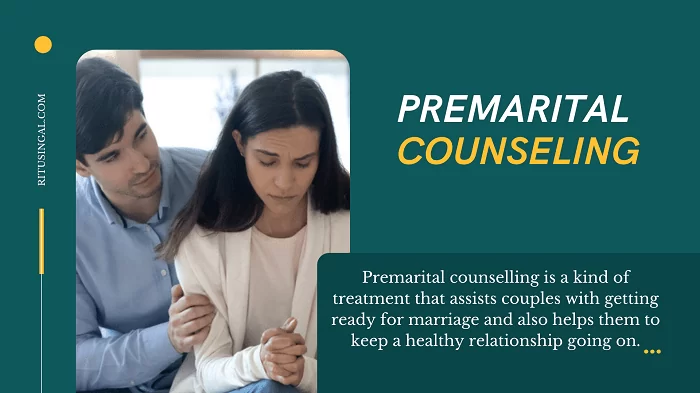 Helps reduce fear:

The uneasiness and discomfort that is bound to arise in the new life are reduced with the help of counselling. The counsellors help the partners become comfortable with each other. All the fear of the soulmates is diminished, and they are motivated to take the step forward towards their alliance.
Of the pandemic, online counselling sessions play an important role in guiding young couples and removing all their fears. The life coach gives therapies and takes interactive sessions online and is available every time for anyone who needs her help.
 "A great marriage is not when the perfect couple comes together. It is when an imperfect couple learns to enjoy their differences."