Many parents think that the end of pregnancy is the end of the most laborious part of parenthood. What they don't know is that it is the beginning of a very crucial phase of life, which is developing a good parent-child relationship.  Apart from all the roles that you play professionally and personally, the parenting process becomes the most important of them all. Parenthood will and should take over all your other aspects. 
A few days back, a family came to attend a counseling session with me. The parents had a 16-year-old boy. They thought that their son has gone out of their hands and that he does not obey anything they say. The health of the father had started declining because of the irresponsible behavior of the son. As they started counseling with me, I realized the problem behind all this was the generation gap.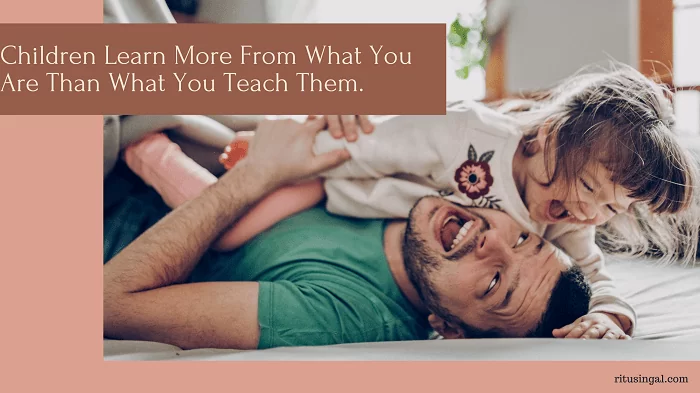 The parents were still following the orthodox methods of parenting where they wanted their son to study all day, perform well at school, avoid social gatherings, and all such activities. The father always shouted at him, thinking this the method of handling stubborn kids. This method of the father had made his son least bothered about anything. 
When I counseled the father and asked him to be polite and a bit more open to his son's lifestyle, he agreed. In the next session, I asked their son how things have been with his dad lately, he said, "Suspiciously well!"
He was surprised to notice his dad was no more shouting at him. Gradually they all started adjusting to each other's way of living. The son started performing well.
On the third session, when I asked his dad how his health is, he said on a scale of 1-10, my health has reached 5, from 3 in just two sessions. They were very satisfied and happy with the counseling.
This incident made me think that most parents give the best of parenting when their kids are young, but as the kids grow up, they start getting away from their parents. The healthy parent-child relation should last forever and not just for a phase. I know each one of us tries hard to be the best parent to their child, and I know we give our best in the process.
A Healthy Parent-Child Relationship
As a parent, you give a perfect start in life to your child. You nurture them, protect them, and always guide them towards the right path. In a way, you prepare your child to be more and more independent as they grow. 
This parent-child relation will lay the foundation for your child's life choices, personality, and overall development. Even after your child grows into an independent being, there are certain things that you should do to help them. 
Why is a parent-child relation critical?
The relation that you form with your child is the relation they will carry forward in their lives. Loving parents or a 

single parent

 will create loving children, and these children will bear the legacy of forming kind relations with others in the future. It is how a 

parent-child relationship

 is crucial to be maintained from infancy to adulthood of your kids.

If the relationship between you and your child is a loving relationship, then the child will always feel secure about sharing his feelings, problems, and challenges openly with you. In this way, the child will not hide things from you or try to find peace in strangers.

A good family relation creates a child who is emotionally, physically, and mentally well developed. The child remains optimistic as long as he knows his parents are by his side. If you are a 

single parent family

, your responsibility towards your child doubles. You have to make sure your child does not feel a void in the family.
How to build a robust parent-child relationship?
Now that you know how important it is to create a healthy parent-child relationship, let's learn some ways in which you can do so:
1) Start even before the child arrives
The mother of the child develops a bond with the child even before it is born. The father flourishes the bond as soon as the kid arrives. Even before the child is born, you have to start preparing to be parents. Set your priorities right, make all the necessary lifestyle changes, and set a schedule where you spend most of your time with your kid. It is very crucial to give complete attention to a kid during his infancy to toddler age.
2) Be available
Nothing makes children feel worse than seeing their parents being unavailable for them. Your kid will always look up to you from the very beginning to feel safe and secure. Make sure you are invariably available to them. Do not make excuses to miss their school functions or ceremonies. Make them a priority.
3) Eat meals together
It may sound very cinch, but eating meals together is an essential step in a healthy parenting process. Mealtime is the best time when families converse, discuss their days, and share their thoughts. Make it a habit from the very beginning, even if however busy a person is, they have to take out time to eat dinner together.
4) Trust your child
Getting too involved and interfering too much in their life will lead to distance between you guys. You need to trust your kids, their activities, and more importantly, you have to trust your given morals. If you know you have raised the child right, then there's no need to blame them now and then. Also, your child should trust you equally. Being trustworthy is very important. If your child trusts you with their secrets, then it is your responsibility of not breaking their trust.
5) Parenting counseling
      Even if you have tried all you could, but could not build a good parent-child relationship, then you should try parenting counseling. This counseling will help you learn how to raise your child in the best manner. Many times people don't have a clue about how to raise a child and steadily feel their relations getting sour. If you are going through the same, then parenting counseling will help you tremendously. The counselor will understand your situation, expectations, and then will guide you to form a healthy relationship.
Final thoughts
Parenting is hard and can sometimes even get to your nerves. When you see your child becoming the person you never wanted them to, it makes you doubt your efforts. A healthy parent-child relationship is to be formed in the very initial stages and should be carried throughout life. It may take longer than you expect, but upbringing is a very gratifying job. If you try your best now, you shall see the rewards later, and then you won't deplore any part of the parenting process.