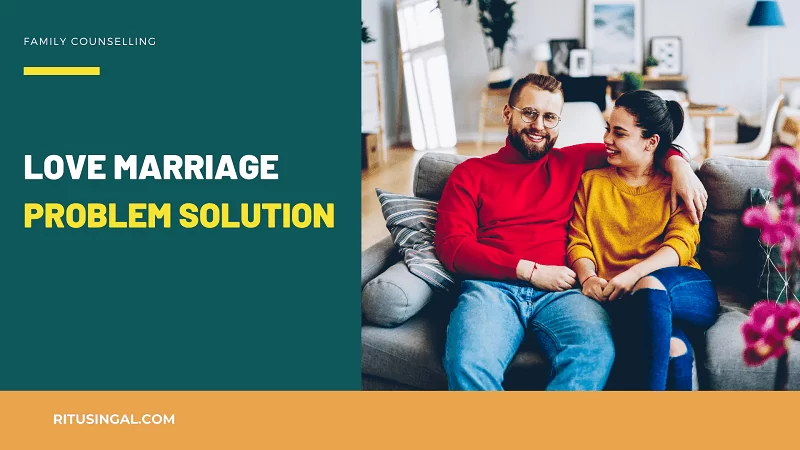 Love Marriage Problems and its Solutions
Love is a feeling that is hard to put into words. It is something that can only be felt. There is no better feeling than marrying someone you love. 
Being a life coach, I have helped many couples by resolving conflicts and helping them start a new life.
Not only this, one of the biggest issues that I have to address is love marriage problems.
There is no doubt in it that even today many families are rigid when it comes to the idea of love marriage.
The kind of problems and concerns people show over love marriages amuse me. Last year, a couple visited me for premarital counselling.
They were in a relationship for the past 8 years and wanted to get married. As they reached the age of 27, their parents started looking for a suitable match for them. In this situation, they had no choice left but to tell their respective families about each other.
They were highly happy and content in living with each other, but the only problem was that they belonged to different castes.
In India, many small cities still avoid the idea of intercaste marriages. It is not acceptable for them to marry someone of a different caste.
The boy's father clearly told him that they won't ever accept the girl as a part of their family. Not only the guy, but even the girl's family had problems with the marriage.
The guy even started getting death threats from anonymous people over calls. They were completely shattered by the way their families were treating them.
It was during this time that they visited me. I was surprised by the series of events, but I had seen many such cases already.
I asked them to bring their families to visit me. I wanted to take them into confidence so that they accept them as a couple.
We even found a relative close to both sides who could help us in convincing the families. Today, they are happily married with two kids and the girl is living with the boy's family. 
This is how premarital counselling can help you and your partner in leading a happily married life.
What are love marriage problems?
Marriage is a sacred bond that depicts the union of not only the two individuals but their respective families. A marriage is never complete with the relationship of two people, it needs to involve family.
Many times it is seen that some parents have a lot more say in who their child should marry. Arranged marriages are still a preferred choice for most families.
An arranged marriage is by keeping a check on the caste of both families. It is also believed that inter-caste marriages lead to many difficulties and challenges in relationships as compared to an arranged marriage.
6 love marriage problems couples face
Anyone who plans on getting married to the love of their life has to go through the following six problems:
Marriage includes Parents
There is a tradition in India where the bride has to live in the groom's house with his parents post marriage. If the parents do not approve of the girl before marriage, the mother-in-law becomes tough to deal with. 
Sometimes couples marry even if their parents reject their proposal. In such cases, the girl has to suffer as it becomes very difficult for her to adjust to living in a house where no one likes her.
Many times, mothers start feeling insecure about their son's extra inclination towards his wife. If the guy is unable to fix the situation at the earliest, it becomes a real pain for the girl.
Negativity flows around
Couples who do love marriage without their parents' acceptance create a lot of problems for themselves. Marrying without the acceptance of parents or family creates a lot of negative vibes around the house.
It might start with little venting but can lead to bad-mouthing. It creates a lot of negativity around the home. The blame comes on the girl for almost anything and it gets really hard for her to survive in such conditions.
Conflicts arise between partners
Many times it is seen that the problems created by love marriages start creating conflicts and issues between couples. They start fighting over petty issues. Sometimes the family starts creating misunderstandings between the two.
After marriage, couples need to give a lot of time to the family. It leaves them with less time for each other. They don't want to fail on the expectations of their family. They end up giving no time to each other and feel distant.
Inter Caste Love Marriages
In India, marriages are considered a sacred union of two souls. For a long time, it has been followed that the boy and girl marrying each other should be of the same caste.
Although many people have grown their mindset above this tradition, some places still follow these rules. People who break this rule are often disrespected. The boy and girl are shamed and separated in most cases.
Disowned by families
Many times we see couples who are disowned by their parents because they married the love of their choice. Couples who fight hard to marry each other are often not accepted by their families.
I have met so many couples who are not allowed to visit their families or talk to them. Their kids have never got the love of their grandparents. It is very hurtful to see this.
Societal pressure
Since inter-caste marriages are not well accepted in India, most couples have to face a lot of societal pressure. Couples who are already disowned by their families have to further face a society that doesn't respect them.
I remember once a couple visited me and told me that they were unable to rent an apartment for themselves as they had eloped to marry each other.
Landlords are seen creating issues because of inter-caste married couples. The couple might not even get help from relatives or family.
Why our love marriage problem solution service?
Our love marriage problem solution service is designed especially for the people who have to undergo such emotional and mental trauma.
I understand that love can sometimes feel like a burden in such situations. However, you should neither lose hope nor the love of your life.
I have helped many couples who were struggling to convince their parents to marry. My counselling has helped them convince their families.
Being a parent myself, I understand the point of view of both the parents and their children. I try my best to maintain a neutral balance between the two and come up with the best solutions.
How can our service help?
I can help you with effective ways to convince your parents if they are against your decision to marry.

Many times couples find it very difficult to convey their choice to their parents. I can help you in such situations by initiating a healthy conversation.

If you have done a love marriage and are facing problems with your families or parents, I can counsel and bring forth ideas on how to improve relations.

Love marriages can sometimes lead to conflicts between partners. Our service provides great premarital and marital counselling to help couples resolve conflicts.
If you feel your love life is posing a problem for others or is creating issues in your life, then consult Life Coach Ritu Singal today. I understand problems can be big, and it'll affect you both emotionally and mentally. Visit ritusingal.com today and book your counselling.