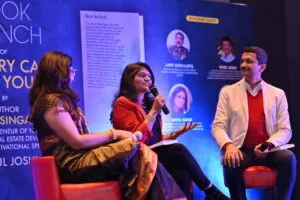 About Our Events
Being a Life Coach for the past fifteen years, Life coach Ritu Singal has mentored more than 12000 people across fourteen different countries. She has conducted numerous events where she has provided immense knowledge.
Apart from being a Life coach, Ritu Singal is a leading entrepreneur and has been managing her family business for the past fourteen years. Under her leadership, their business has gained new heights. As a business coach, Ritu Singal has helped numerous startups and businesses by providing insightful business coaching to them. Several events had been organized by her for various organizations to help them achieve their goals and aspirations.
Ritu Singal believes in the power of youth and has always worked hard towards empowering youth. She has given motivational sessions, and coaching's in many universities and schools across India.
"A story can change your life", a life hanging book written by her has served as inspiration and positivity to many people. As great the book is, as was the book launch event for the same.
You can have a glimpse of various events organized and attended by Life Coach Ritu Singal