Defeat Your Aged Property Disputes With Family 

Counselling
Family is not just some people tied by blood living together. A family is an association and an institution that works together and stands for each other when needed. Family plays a crucial role in any society.
When it comes to families, people don't only help each other financially, but also emotionally. However, today the rising number of divorces and disputes over property have changed the meaning of a family.
A lot of reasons can be linked to this change. Most commonly it is because of economic conditions, professional problems, or marriage issues.
Property disputes are something that get highly irrelevant with time. Properties of people remain unused, people die, but the disputes seem never ending. People waste their entire lives fighting over a property that no one gets.
In India, it is quite normal for a property dispute to last for 30-40 years. Generations pass, but disputes never end. It is better to get guidance and counseling on such critical issues. It helps families stay together.
Being a Life coach, I strongly believe that society should devise means of protecting families. The only way to do this is by resolving conflicts and disputes that destroy or damage the threads of a family.
What is a Family Counseling or Family Dispute Resolution?
Family dispute resolution, as the name suggests is the type of counseling where a counselor helps clients resolve their conflicts.
Family counselling is a process where a life coach or counselor helps people who are affected in any way due to family issues. Counseling helps them deal with personal and interpersonal issues of the family.
Family dispute resolution is a specifically designed counseling where a family dispute is resolved. It helps people who are affected or are likely to get affected. For example, property disputes where siblings might fight over the inheritance of their parent's property.
The best part about family dispute counseling is that it saves both your time and money by avoiding the legal court process.
Why should you opt for counselling for property disputes?
Taking legal action does not always help. Sometimes the issues are small but are stretched due to legalities. I believe mediation and settlement through counseling for family property disputes is a more convenient way.
I remember once a client visited me. He belonged to a very good family. He had a younger sister who was married.
The man's father died due to old age. Now, his father did not prepare a will before, and legally the property was to be divided equally between the two siblings.
However, the client wanted to keep hold of the entire property as his sister was already married, and a part of another family.
On the other hand, the sister's in-law supported her as she thought she was being devoid of something that belonged to her.
The siblings who respected and cared for each other more than anything were now fighting like cats and dogs. They could not even stand in a room together.
It was when they came to me for family counseling. At first, it was very arduous to get them to sit together and talk, but as the sessions began they started getting more comfortable.
As I heard both their point of view, I was ready with a solution for them. However, being a life coach, my duty does not end there. I had to bring back the relation the siblings had before the dispute.
Within three sessions the siblings had sorted out all the differences and were back to being normal.
The sister was given the amount worth her part of the property. The brother kept the inherited house as he was already residing there.
Parents play a very nasty role in creating such disputes. I always guide parents about what they should do so the children dont fight and live happily. I have helped them in ways of telling how they should talk to their sons and daughters.
I believe it is better to get counseling in such disputes. No one wants to spend years visiting cirts every now and then.
In this way, family dispute or property dispute counseling can help you find the best solution by not affecting the delicate fabric of the family. 
Counseling not only resolves your problems but also ends the bitterness in relations. It preserves relationships between parties by open conversation and collaborations. Peace and harmony will prevail in the family.
What are common property disputes in families?
Property disputes between brothers and sisters, or among brothers, or other family members can be hostile and long-term. They can destroy relationships permanently.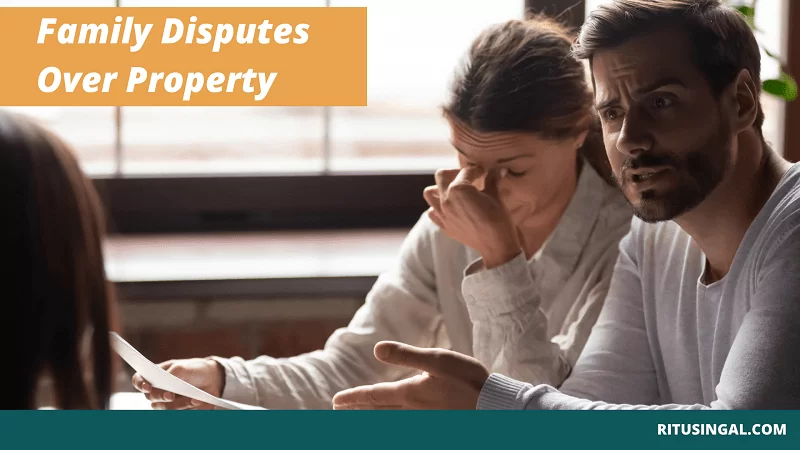 Greed at a greater level causes a lot of property disputes around the world. People who get a lesser share of property remain unhappy and create problems. 
Here are some common property disputes:
 Real Estate Hoax: Many times people negotiate with the other family member through false representation of documents. It creates a situation of fraud. Family members sometimes hire agents for such wrongdoings.

Title issues: In India, the property is commonly inherited through a will. The title and division in the will should be clear. If the will does not satisfy the kids, disputes are likely to arise.

If the property is not divided among kids through a will, then the succession law divides the property among siblings equally. In such cases also some siblings start asking for a greater share. It is the most common cause of property disputes in families.
What are the benefits of property dispute counseling?
From ancient times, it is considered very valuable to listen to the advice of elders. In India, even today, most family disputes are resolved by the elders of the family. They act as mediators to resolve conflicts.
In the same way, a counselor can be considered as that elder of your family who has the experience and will guide you towards the right path always.
Here are some benefits that you can get through our property dispute counseling service:
The counselor undergoes constant supervision by observing the positive and negatives of both parties to give an unbiased opinion.

Counselors remain impartial. Your dispute will never be judged by a counselor based on sex, status, or bribe. The counselor will listen and react to your thoughts and words.

The counselor is smart enough to understand body language. You cannot lie or fool them. They understand human psychology, and will be able to judge the other person's intention. It is very crucial as they will make decisions on the basis of the truth.

Counselors use several innovative tools to come up with the best solutions. Different personal, skill-based, or professional tools can be applied to diversify negotiations.

The best part about family counseling is that the life coach will never judge anyone from the family for any of their actions. You can be truthful and find answers to your concerns.

Most family disputes are created due to bitterness and lack of communication. Counseling provides a platform where you can communicate openly and resolve disputes under guidance.

A more cooperative and impartial decision making takes place during counseling sessions. No unjust methods can be used to win the case during counseling.
Why choose our Family Counselling service?
Being a life coach with experience of fifteen years, I have helped and guided many families towards peace and harmony.
When it comes to property disputes, relations always get sour. The bitterness can cause irreparable damage to the families.
Law can help you settle your property disputes, but not the bitterness in the family. I am a lawyer by profession which adds a lot of benefit to clients. I have worked with the court and I am well aware of how law works in property matters.
My counseling works on the principle of collaboration, communication, and confidentiality. Counseling gives you an impartial and balanced way of dealing with issues.
Counseling is a more personal and comfortable place to discuss family issues. You can be open about your thoughts and feelings.
I believe that counseling can be an efficient method of resolving conflicts. I have helped and guided many families towards an ecstatic settlement where no one's feelings are hurt. However, if you are unable to find a solution to your problems, you can always approach the formal legal system. 
If you are going through a property dispute in your family, or if a property dispute has already caused bitterness in your relations, consult us today.
Our counseling can help you, your siblings, and your family leads a loving and happy life.