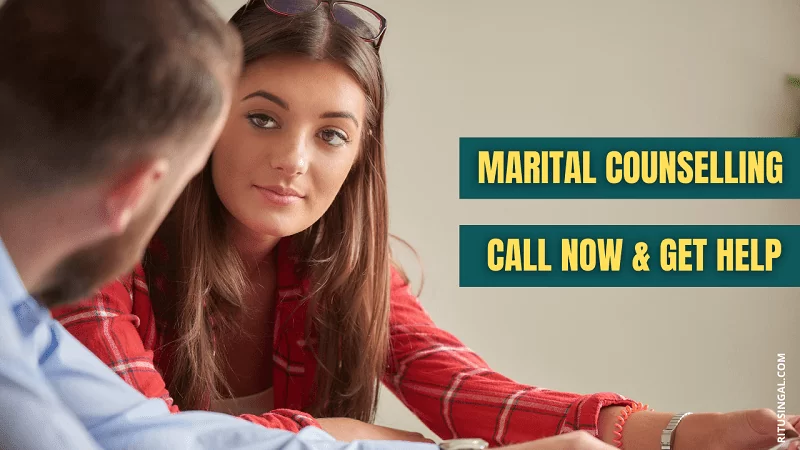 Marriage Counselling Services For An Ecstatic Married Life
Marital counseling is something we all know about, but hardly take the step to enroll in one. People find it embarrassing to seek help for a better-married life
. Couples these days would rather file a divorce than take the help of a counselor and get
marriage counseling
in order to save their relationship.
I remember one such couple. The couple was married for nearly seven years and had a five-year-old son.
Counseling for Husband and Wife
They had a love marriage, and initially, everything was like a fairytale for Priya and Aman. They were madly in love with each other and decided to turn their relationship into marriage.
However, by the fourth year of their marriage, a lot of conflicts started between them. The conflicts were so much that the love between them started turning into hatred.
Priya thought that Aman has lost interest in her, and it is why he stays out late by lying to her. But, she never shared her insecurities with him. Instead of talking and sorting out things, she used to bash and blame him for his character.
Aman had no idea why Priya has been so insecure and rude to him. Aman thought maybe Priya wants to get rid of him and is only trying to find excuses to do the same.
The issues were raised to a level that they both decided to get a divorce. They thought there was no point in being in a relationship with no love.
During this time, as they discussed their problems with Aman's brother, he suggested they should get marital counseling before taking such an extreme step.
As they visited me, I understood the cause of their problems. The only cause of the conflicts was the lack of communication.
As the therapy started, they both shared their reasons, problems, and emotions. The communication they missed at home was now coming up in front of them.
Within three sessions of couple counseling, they realized the love between them never faded away, they just stopped looking at it. As their marriage counseling ended, they went back with the same affection they had on the first day of the marriage.
Being a marriage counselor, this experience of saving marriages feels like a blessing to me. I find myself lucky to help people lead a happy life.
What is marital counselling?
Marital counseling is a couple's therapy that both partners have to undergo to resolve marital conflicts. Couple counseling helps couples to improve their relationships and rebuild their relationships into a brand new forms.
Even a single partner who thinks they need to learn more about relationships can participate in marriage counseling online or physical counseling alone.
Marriage counseling is done by a licensed counselor who would listen, understand, and help you resolve your problems.
Who can benefit from marital counseling? 
Marriage counseling is a form of psychological counseling that helps couples, especially those who have been married for quite some time, adjust their relationship with each other, and resolve any conflicts and misunderstandings accumulated over the years. 
 Couples may seek help when they are having trouble in their relationship with their spouse, and they may also need help to resolve conflicts and issues between them and their children.
If you are having trouble dealing with your partner and your relationship seems to be heading toward rocky grounds, you may want to consider attending marriage counseling. 
You may be able to identify potential problems causing friction between you and your spouse. You might be able to find ways to solve conflicts and address other issues affecting the relationship. 
The benefits of marital counseling differ from one couple to the next. Some partners will find that their situation makes it necessary for them to undergo counseling to save their marriage. Other couples may believe that they are well enough on their own and do not require marital counseling services.
Most couples need some form of relationship counseling services, whether they are having difficulties in a romantic relationship or not. Many different types of relationship counseling can help people go through the rough spots of their relationships and strengthen them.
If you are in a relationship that seems to be straining at the seams and there is no apparent way to get your relationship back on track, you should strongly consider marriage counseling to seek out the advice and service of a relationship counselor.
The unique aspect of my relationship counseling service is that I take the time to understand what is going on between you and your partner. I will also spend time with you and your partner individually. It helps me better understand what you are going through. With this level of insight, you can expect to see your relationship start to improve much more quickly than if you tried to fix it on your own.
Why Life Coach Ritu Singal?
When it comes to marriage counseling, I have successfully saved marriages and helped many couples to live happy married life.
I use innovative ways, techniques, and tools to help my clients revert to the old times when they were full of love.
I invite couples for a joint therapy session and listen to both of them and their concerns. I believe in finding the root cause of conflicts and acting upon resolving them.
I never hesitate to point out either partner's mistakes.
Marriage counseling with Life Coach Ritu Singal takes place in three steps:
The first step is the communication part, where both partners communicate and discuss their fears and thoughts.

After listening to both sides of the story, I analyze and work towards the problem-solving part.

Finally, I discuss the differences rationally between the two to come to a final conclusion and to provide the right guidance for the future.

Apart from this, I can give you handpicked advice and tips to strengthen your relationships.
Our marriage counseling service makes sure you do not face any conflicts in the future, and even if you do, you'll know how to handle them.
You and your partner must be willing to work towards the betterment of your relationship before initiating counseling. Even if your partner does not support you in the decision, you can take the counseling alone.
It is always good to set realistic expectations from marriage counseling services because the counselor can only help you and guide you in the right direction. 
It takes a lot of time and effort to adapt to changes and adjust to each other.
Our service is ready to help you at any phase of your marriage. From premarital to post-marital counseling, we offer them all.
Are you facing issues in marriage? Get marital counseling from us.