Newspapers, journals, and other publications simply report on the number of women who run their own businesses. In 2017, approximately 51% of women in the United States were employed, hiring nearly 9 million people and producing $1.7 trillion in revenue. These figures, however, only tell part of the tale. Women's entrepreneurship is about much more than this.
They've battled all of the issues that women entrepreneurs face for a long time to get to where they are now. A similar upward trend can be seen in entrepreneurship, where women-owned businesses and firms are gaining tremendous visibility and growth.
However, when it comes to women, things are far from perfect, and the same is true for women in the company. Despite having the requisite aptitude, stamina, determination, and creativity for the company, women have faced numerous personal and professional obstacles that have held them back and continue to hold them back. 
Women entrepreneurs are confronted with several problems from the start of the business. 

The traditions, practices, socio-cultural values, ethics, and motherships subordinated to linguistic and male husbands, physically poor, challenging workplaces, the feeling of vulnerability cannot be harsh.

Women have to suffer even more in rural areas. The resistance from men is tough. They are regarded as assistants.
 "Shaakh Se Jo Toot Jaye Hum Vo Pattian Nahi, Toofano Se Kaho Vo Apni Aukat Mein Rahe"
Who is a woman entrepreneur?
A woman entrepreneur can be described as a woman or a group of women who works to improve the economic situation. At the end of the day, a woman entrepreneur is described as a woman or a group of women who start a business and run it successfully.
Women's entrepreneurship visionary, according to the Indian government, is described as a venture owned and controlled by a woman, as well as an activity claimed or controlled by a woman to grow and improve income generation.
I have seen marriages getting broken just because the wife earns more than the husband. I have also seen the females fighting hard to survive as all they did their entire life was to depend on their husbands. The times have changed and now I tell everyone to stand on their feet and lead a life that is independent. 
Major problems that women entrepreneurs face in today's times
Let me tell you some of the obstacles that the women entrepreneurs face:
Money is to a business what food is to a human body, and it is essential to every company, large or small. On the other hand, women suffer in this regard because they lack access to extra funds, familial land and, in some cases, receive no material or financial support from their own families.
Women are also having trouble obtaining external funding because they are viewed as low risk-takers who would not achieve the desired performance for their company. To overcome this, women should take advantage of government-sponsored programmes for women, SMEs, and the like. 
When my husband passed away I was like a blank cheque. I have always handled my home but now people were looking at me for professional reasons also. I had a lot of things to take care of and had a battle to win out there. Despite all those things today I am struggling and giving a tough fight to my competitors. 
Women continue to struggle for a footing in the world of men, and business is no different. In any event, a woman tries to make it big without proper financial assistance and organisational equipment to support her in advertising and marketing, promotions and towing. There is a massive rivalry between current and coming companies.
Furthermore, it is difficult to handle a stand-alone product that captures people's eyes in the market, potentially leading to the failure or liquidation of companies operated by women. There is only one way to compete for your business – remain lean, place forces to weaknesses, chase big customers aggressively. 
It is a massive obstacle to women because it can be a basis for success or failure in any area of life. Almost 60% of women in India, which has long been one of our country's most significant socioeconomic challenges, are estimated to be illiterate.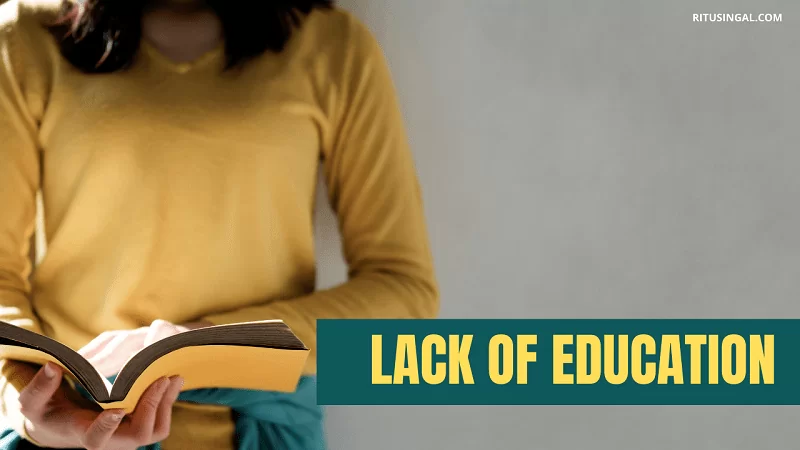 Because of the lack of education and even basic knowledge, women are far from events worldwide, especially technological interference, increasing and decreasing markets and any type of business knowledge. There is also a significant barrier to women and one of the top issues for women businessmen: their lack of education and sufficient visibility.
This is because the women are not taught properly. Its the lack of getting connected with the outer world in the way like the males do. 
Yes, women entrepreneurs with determination and vigour make a wave of the industry. Despite their right mindset and ability to work, women continue to be considered less than men. Male chauvinism in India is still prevalent, not only in rural but also in urban environments.
Women have always had different social and cultural standards than men's. Though women now do household and professional tasks with aplomb, thanks to our patriarchal culture, they are perceivable as having husbands' position and being beyond him.
Almost 47 percent of the women working in the sector are nonetheless prejudicial to the male way of doing things. Women can outfit themselves with such armour to counter the crisis, and they can do so not only in their working environment but also for life. Cultivate confidence and be strong so that a man or people will listen to you, in general. Staying optimistic attracts more people, and becoming an aggressive lifelong student will help you stay on top.
Networks provide entrepreneurs with vital knowledge. Networks help businesses learn more and create significant links for additional resources and business development. It is challenging for women to find the connections they need when they start a firm and seek business growth advice. Networks are a haven for entrepreneurs, in particular, to learn about the rules of the game. They are a significant source of new business contacts.
Even with experience in the industry, you may never have begun a company before and therefore lack the business and financial knowledge listed above. For new business owners, role models and mentors are indispensable. The role of women entrepreneurs will help women develop their skills and trust, and solid network connections are available.
It is challenging to find skilled persons who will meet this need for women entrepreneurs without solid networks and connections.

Leaning on more seasoned business owners is particularly beneficial for women who have just started their business journey.
I had a client who was extremely talented and had the calibre to do something extraordinary with her skills. One day we were just sitting and talking and I told her why not to start her own venture. She gave me a blunt look and I was shocked. She had such great out of the box ideas but just because there was no role model she was wasting her talent. 
I told her to look up to women like Michelle Obama. Being the first lady of the United States, she never stepped back from her own identity. Even the daughter of Barack Obama used to work in Mc. Donald during her summer break.  This is the type of will and determination that one must have in their life. 
Women entrepreneurs need to be trained to operate and run a company successfully. Women who are still reluctant to undertake the business challenge should be educated.
Machinery and technology selection
Women need support in machinery and technology selection. Assistance in technical fields must be given to them for the business unit to succeed.
One of the most significant issues that women entrepreneurs face is money. Both family and government institutions should be generous in assisting them financially.
I had a client who had a very good idea of inventing something out of the box. She had all her plans ready but was not working on them. I asked her what was wrong and the reason she told me was surprising. Her husband was not allowing her to move forward as the family was not ready to support her idea financially. 
I told her to bring her husband the next day and with my support and counselling today she is a well known personality and her husband is standing with her like a rock. 
Many women have children, husbands, and other commitments in addition to becoming entrepreneurs or working professionals. Personal and professional obligations can force a woman to choose between her company and her family. Her family expects her to be a mother and a wife, while the company expects her to be a leader and demonstrate dedication. It is also more daunting for those who do not have social support because they must bear the entire burden alone. Some women can strike a balance between these two aspects of their lives, while others are completely overwhelmed.
Less developed business networks and social and traditional constraints that limit women's involvement in business are among the obstacles that women face. Women are barred from owning businesses because of their religious beliefs. In certain countries, women may be forced to work with a male partner who will conduct business, negotiate, and represent the company. Despite these obstacles, the business world is increasingly tolerant of women's abilities and efforts.
Less developed business networks and the balance of social and traditional constraints that limit women's involvement in business are among the obstacles that women face. Women are barred from owning businesses because of their religious beliefs. 
In certain countries, women may be forced to work with a male partner who will conduct business, negotiate, and represent the company. Despite these obstacles, the business world is increasingly tolerant of women's abilities and efforts.
Underestimation
It is difficult to believe, but women are still treated differently in our society. When compared to men doing similar jobs, women are paid less.
As a married woman, a housewife, and a mother, many women face challenges due to a lack of trust, expertise, and other factors and I also did the same.
Despite these difficulties, she accomplished her goals and set a precedent for all other female entrepreneurs out there, demonstrating that even though there are thousands of obstacles in your path attempting to destroy you and hinder you, all you have to do is battle them and continue on your path to success.
How life coaching helps women Entrepreneurs to cope with the above problems?
So, why does Bill Gates, a multimillionaire, say that everybody wants a coach? Coaching is a valuable tool for personal, technical, and business growth, but not everybody has access to one. 
Thousands of high-performing and super-successful people all over the world have achieved their goals without the assistance of a coach.
Role of a business coach for Women Entrepreneurs
Women entrepreneurs seeking business coaching are searching for ways to integrate tactics and resources that can help them simplify their business models and free up time. 
One of the most important areas where female business coaches can help them is in finding and developing their ideal clients in a lucrative niche. 
Without ideal premium clients who are willing to invest in themselves, there is no market. Anything less is a rollercoaster of anxiety.

Women entrepreneurs want to make a difference, leave a lasting legacy, and do work that inspires them. 

These high-achieving businesswomen seek to make more money and have a greater effect by working fewer hours so that they have more leisure, longevity, better health, and a higher standard of life. What's the point if not? Is that correct?
Conclusion
To assist them in achieving the financial and personal independence that they crave. Is it possible for us to do it on our own? Of course, why not collaborate with someone who can assist you with getting there faster? That you can't read the bottle label when you're inside the bottle, not that they do the job for you.
Owning your business success as a woman inspires you to work harder and accomplish more. It motivates those around you. I, Ritu Singal has paved the way for more women to join corporate boardrooms. Confidence is a necessary component of success and development. When a woman takes the lead, others tend to follow.