Action may not always bring happiness, but there is no happiness without action.
Motivation is the inner driving force that propels us to do what we do in life. For example, hunger and safety are biological motives, which drive us to look for food and protection from dangers. Similarly, you have the motives of social affiliation, power and achievement which guide our behavior. In fact, without these motivators, our lives would be bereft of all that is beautiful, desirable and worthwhile to achieve.
As human beings, being active is our default mode, otherwise we would have been born as sloths or panda bears. To strive, want, and move towards something we desire and prize is the very essence of being a human. Therefore, understanding motivation can give us many valuable insights into human nature. It can explain why we fix goals, strive for achievement and power, why we desire psychological intimacy and sex, why we have emotions like fear, anger, and compassion.
Learning about motivation can help us understand where it comes from, why it changes, what heightens or lowers it, and which aspects can or cannot be changed. Motivation brings out valued outcomes like improved performance, wellbeing, growth and a sense of purpose. It can change the way we think, feel, and behave.
Major Benefits of Motivation
Motivation is vital as it lets us adapt, function productively, and maintain wellbeing in the face of a dynamic world of opportunities and threats. Motivation lets us thrive, while its deficit causes us to flounder. Its benefits are visible in greater engagement, higher job satisfaction, and flourishing relationships.
It has many health benefits, too as when our motivation gets depleted, our functioning and wellbeing suffer. A heightened motivation level allows us to change behavior, develop competencies, be creative, set goals, grow interests, make plans, develop talents, and achieve goals. Using the collected wisdom of motivational science to daily living can help us motivate ourselves, our family, children and employees towards the desired goals.
However, there are times in life when we feel de-motivated i.e. empty of any internal desire to do something valuable, move towards a chosen goal or achieve something worthwhile. That's when we all need some external motivation to help us return to our normal track and raring to go. Such motivation can come in many forms and especially in modern times, there is no dearth of such resources – videos, articles, books, films and other things to handhold us and pave our way to success.
 When it comes to books, inspiration can take many forms. If fiction can propel us to grow just like the characters did, non-fiction is not far behind, with its steady guidance on how to do everything from poetry to professional development. But inspirational books go a little further, especially for those among us in need of that extra push. Here is a carefully curated list of the 25 finest inspirational books, covering a variety of genres, tastes, and perspectives from diverse authors. Despite their apparent differences, they all will guide you to a better future and a better you.
The 5 Second Rule-Transform Your Life, Work, and Confidence with Everyday Courage
Mel Robbins
This one is great for anyone looking to add a positive push to life and productivity. Mel Robbins reminds us of the immense support we receive from others in life and how it should motivate us to overcome the excuses we have to impede our progress. By discussing many different habits and telling fun stories, Mel Robbins argues that you need only 5 seconds to become confident, stop procrastination, overcome fear, and live a happier life.
The 5 Second Rule has the potential to make you confident, break procrastination, beat fears and become happier. This wildly popular self-help book is built on the 5 second rule: the five seconds you should take whenever you need to push yourself. Robbins' incredibly successful Ted Talk on this rule has been watched by more than one crore people globally.
Educated
Tara Westover
Tara Westover, a Ph.D. historian and scholar entered the classroom for the first time at 17, before which, she had been working in her father's junkyard. Raised in her father's non-mainstream views, she had no idea of the Holocaust, slavery, or World War II until she got a thirst for knowledge and began her formal education.
Her Educated is an eye-opening memoir of this insatiable quest and coming-of-age story of self-discovery. It delves seriously into the meaning and importance of education without brushing aside the cost it exacts.
The Alchemist
Paul Coelho
A must-read! Mysticism and wisdom combine in this classic, enchanting fable that has sold crores of copies worldwide and it's not hard to understand why: The Alchemist squeezes great wisdom in just 163 pages, written in a brief fit of inspiration. It comes with self-help advice as the spell-binding story of the Andalusian shepherd boy Santiago, who, driven by prophetic dreams, sets off for the Egyptian pyramids in search of a treasure. The boy travels the world in search of that treasure but ends up discovering vastly different type of riches than he had imagined. On the way to his destination, he hobnobs with kings, faces betrayal, fall and love along with telling us how to reach for our own dreams.
Overall, it encourages us to listen to our hearts, recognize unique opportunities, and pursue our passions.
The Art of Happiness
Dalai Lama and Howard C. Cutler
The very motif of our life is towards happiness.      –         Dalai Lama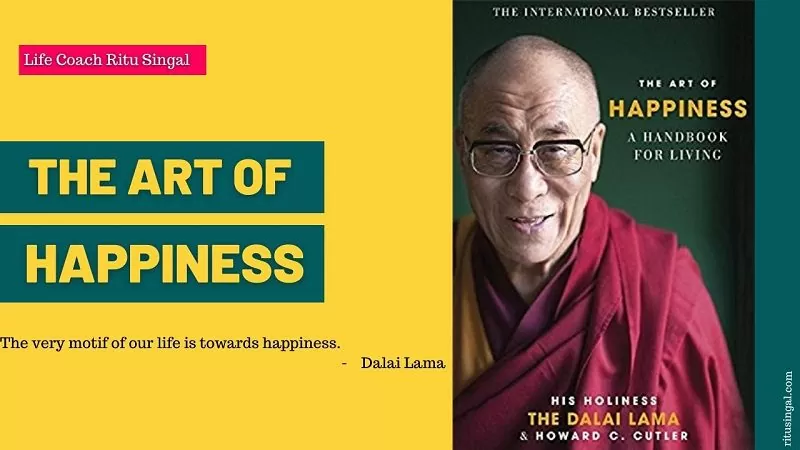 fStill, reaching the final destination is easier said than done. Fortunately, this compassionate book is here to guide us. It shines light on the idea of compassion for others as the key to personal fulfillment. The Dalai Lama and psychiatrist Howard C. Cutler give you scientific as well as spiritual insights here. The book's central lesson is humbling and deeply motivating – true happiness isn't fleeting; rather, it's an art that requires practice.
The Life-Changing Magic of Tidying Up
Marie Kondo
A rare book that lives up to its title! Marie Kondo is the most famous tidying expert globally, triggering an international craze with her Netflix TV show. The show resulted in crores of people de-cluttering their homes and lives, too. This one is a charismatic book that helps you "spark joy" in life by organizing it. But Kondo argues that tidying doesn't just mean a cleaner house; it also transforms your mindset and you. The methods are life-changing and it seems magical when you apply them and see the results. 
Give and Take: Why Helping Others Drives Our Success
Adam Grant
Contrary to the common wisdom drilled into our heads in today's hyper-competitive world, Wharton professor Adam Grant argues that helping others actually improves your career trajectory dramatically. The charity case studies simply blow your mind and can change the way you think about how you need to behave at work. Even the most cynical among us will find value here, knowing that there's scientific proof of showing goodwill, the old-school way.
Make Your Bed: Little Things That Can Change Your Life… And Maybe the World
       William McRaven
Navy Seal Admiral William McRaven became a bestselling author with the hard-won lessons derived from his experiences. He adapted his speech it into Make Your Bed: an ice-bucket challenge on self-care that builds character and puts us in the mindset of service. The ten principles in the book are life lessons from his experiences resisting bullies, failures, and the urge to quit when things got tough. His humorous yet humble book is for those seeking meaning and how-to wisdom and teaches us how the simplest shifts in behavior can change our life.
The More You Do The Better You Feel
David Parker
One of the most motivational books ever! Parker's book on getting past our most dreaded roadblock bares how to overcome avoidance. Recognizing the fact that these things may be born of depression, The More You Do The Better You Feel speaks compassionately to the exhausted and overwhelmed among us to steadfastly face the fears holding them back. By the end of this book, the readers will be able to walk away with great tools for mobilization in work and life.
Hidden Solutions All Around You: Why Some People Can See Them and Some Can't
Daniel Castro
Have you ever wondered why some people spot the right opportunities while others let them pass by? Daniel Castro brings out "the why" of this treasure dynamic using neurological and psychological research. He explains the phenomenon to put the knowledge into action, help you see your blind spots, why they're there, and how to supersede them effectively. So, if you find yourself amiss at solving problems, this is just what the doctor ordered: Casto's advice. Read it to find out!
Becoming Wise: An Inquiry into the Mystery and Art of Living
Krista Tippett
Based on her long-running radio show On Being, the collection compiles the wisdom of theologians, poets, scientists, and Buddhists to embrace our fractured world with acceptance, grace, and hope. Using "moral imagination," Tippett pushes us to tap into our inner empathy to create a new universe of social good and justice. The voices here give you a lifetime of ideas on smarter living in a very inspiring way.
Big Magic: Creative Living Beyond Fear
Elizabeth Gilbert
Elizabeth Gilbert is most famous for Eat, Pray, Love but Big Magic is about drawing out your inner creative self like a love letter to the artist in you. Written in a conversational, no-frill style, it will help you accomplish your goal – writing a book, making a painting, or creating music. Funny, honest and illuminating, it celebrates art at every level in a never-before manner.
Black Elk Speaks
Black Elk, John G. Neihardt, Philip J. Deloria, Vine Deloria Jr.
Black Elk Speaks, a modern classic, has often been compared to the Book of Revelation and the Kabbalah for its prophetic likeness. The 19th-century mystic healer Nicholas Black Elk of the Oglala Lakota tribe takes the center stage with a testimony adapted by John Neihardt. Black Elk's descriptions of his spiritual visions for humanity and desire for unity on earth have long outweighed other accusations leveled against it. A close reading of Black Elk's journey inspires hope and optimism for tomorrow. A book to keep in your pocket, especially as we face the threat of climate change in the foreseeable future.
Unf*ck Your Brain: Getting Over Anxiety, Depression, Anger, Freak-Outs, and Triggers with Science
Faith Harper
If you've ever been at odds with your mind, this clear guide to brain chemistry is here to help you out. Faith Harper's Unf*ck Your Brain navigates the complex field expertly in plain, non-academic prose to articulately explain what happens to brain whenever anxiety, anger, addiction, or depression take over. The most outstanding and practical ideas are the actionable techniques and the tips she gives, which pave the path for the reader, especially those who are struggling with traumas.
You Are a Badass: How to Stop Doubting Your Greatness and Start Living an Awesome Life
Jen Sincero
This one is a must-read for those who are into life re-design. Jen provides simple exercises to identify limiting beliefs, attitudes, and habits. She provides great advice in a humorous way, which captivates the readers and motivates them to achieve the success they want. Her goal is to help the readers understand the reasons behind certain thoughts and behaviors and focus on the things we can change and accept those which we cannot.
Overall, the book is a new comical approach to inspiring and motivating and can be enjoyed by anyone.
The Subtle Art of Not Giving a F*ck: A Counterintuitive Approach to Living a Good Life                                            
 Mark Manson
Mark Manson tells us to cut it out and to stop trying to be positive always so that we can figure out what we need to do to be better and happier. The book is a refreshing take to counter the motivational books currently out there. Mark doesn't sugarcoat his and tells it how it is in a brutally honest way. He encourages you to accept our faults and limitations, that life is not always fair, and that despite our best efforts, not everyone will win.
Overall, it gives great philosophical wisdom for our modern generation and has empowered many individuals to control their actions and life.
Think and Grow Rich
Napoleon Hill
The book, written during the 1920s Great Depression, addresses the question of becoming wealthy. Equally importantly, Hill talks of the steps we need to avoid as well. Generations of countless readers have profited from the timeless information, words of wisdom, and excellent advice given by Hill. The book is much more than about getting rich; it's more about figuring out how to get what you want in life! Pick a copy to know for yourself!
The Power of Positive Thinking: 10 Traits for Maximum Results
Dr. Norman Vincent Peale
This international bestseller, having sold over 50 lakh copies worldwide has helped many people live more fulfilling lives with Peale's message of faith and hope. The book helps people achieve happiness, more satisfaction and that life is worthwhile. The book instills a belief in one's self and the determination and motivation to pursue goals with power, control, and persistence.
Overall, a great motivational book for those looking for a dose of motivation in daily life.
A Story Can Change Your Life
Ritu Singal and Parul Joshi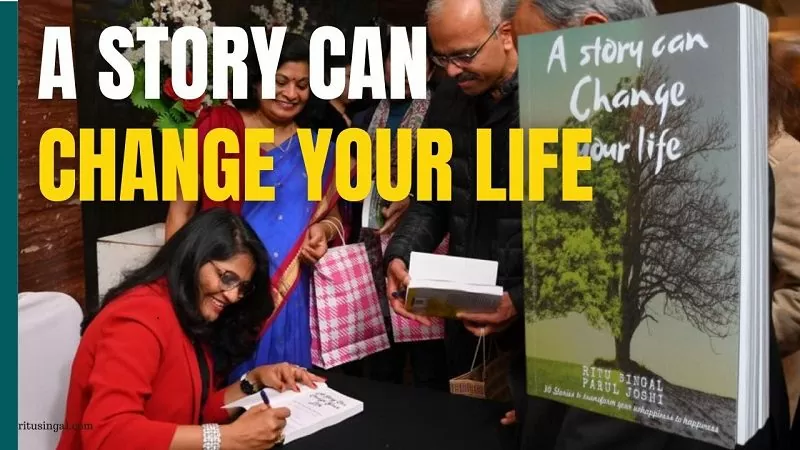 The collection of 30 short, inspirational stories touches various aspects of everyday life like parenting, dealing with toxic people, limiting beliefs, backbiting and negativity, getting rid of painful past and moving ahead professionally. The stories feature Kyna, the protagonist-cum-agony aunt, who delivers simple yet actionable life advice in a fun manner with her entertaining stories. Though most of the life lessons here may appear tried and tested to you, it's the practical, actionable and simple way they are delivered, which makes the collection all the more readable. The simple, everyday lingo makes it a racy, evening-time read.    
Book is also available on Amazon
Champions of Change
Champions of Change chronicles real life transformation stories of 20 life coaches, their journey to becoming extraordinary and excelling in every area of life. Champions who came out victorious from their own relationships, financial and personal problems and fatal accidents life now help others lead a better and more fulfilling life.
Each of the champions featured here embraced change with an open mind and became incredible as they realized they had found their core and wanted to help others with transformation and lead a happy, grateful life. The life coaches share their experiences about how life coaching helped them transform themselves in terms of health, finances, relationships, career, personal development and their approach towards life and happiness.
If you are battling ghosts like knowing yourself, your passions, relationships and your purpose in life, pick a copy to transform yourself and find your own best version.
High-Hanging Fruit: Build Something Great by Going Where No One Else Will
                                                                Mark Rampolla
Mark Rampolla encourages the readers to reach higher in life endeavors, achieve success and leave their mark on the world. The novel exhorts the reader to align their passion, purpose, and integrity to achieve success in life. The lessons can benefit anyone in any line of work and encourage us to stand up for our beliefs. Rampolla wants us to be true to our core values so that we can fulfill our personal definitions of success and promote significant changes in life.
A Million Dreams
Inayat Singla
The doctor-in-making Inayat's insights about the world of the future may astound you but the fact is, she has got her head and heart firmly in place. The young medico, who also happens to be one of the 32 change makers in the FAIR project undertaken in collaboration with UNESCO. 17 goals, 19+5 nations, 120 crore youth and a million dreams of a world without poverty, without hunger, with equality and good education. All these are the Sustainable Development Goals enunciated by the UNO. The book talks of collective action needed at the grassroots level to make it all happen. She dreams big, with her feet firmly planted on the ground, of a dream world where each head is held high, without any fear, each stomach is full and each head contributes maximally to make the world a better place to live in. A very positive and inspiring read, especially as it comes from a first-time author.
Mindset: The New Psychology for Success
Carol S. Dweck
Carol Dweck, while presenting her research, argues that the mindset we adopt is a big predictor of our success. Her belief is that almost every arena of human activity is shaped by our mindset and the way we approach our goals.
In the book, she discusses the downsides of a fixed mindset and the benefits of adopting a growth-oriented mindset. Whereas one mindset defines our abilities as fixed, the other one believes our abilities can be developed provided we are willing to work hard.
A highly motivating paradigm, which can result in amazing accomplishments. Highly recommended!
Girl, Stop Apologizing
Rachel Hollis
How precisely Rachel Hollis nails it! Girl, Stop Apologizing was written for a female audience. Too often, she found women failing to live up to their potential due to the fear of imperfection and not being good enough. Rachel sends a wake-up call to women, who see themselves through others' lenses, instead of how they wish to see themselves.
She encourages women to begin fully pursuing their dreams. She gives a lot of great information regarding which excuses we should steer clear of, which habits to adopt, and the skills that will provide you with the confidence to live the life of your dreams!
Grit: The Power of Passion and Perseverance
 Angela Duckworth
Psychologist Angela Duckworth argues that the secret to success is individual grit, a unique combo of passion and persistence. Duckworth's insights here encourage us to never underestimate the power of consistent, long-term action, especially when you're passionate about a goal. She addresses the thoughts which commonly arise when we fail and gives us the  methods to fight them.
It is one of the best motivational books for you, if you believe that success is all about perseverance and the ability to persist even in tough times.
Smarter, Faster, Better: The Secrets of Being Productive in Life and Business
Charles Duhigg
Smarter, Faster, Better offers eight productivity concepts to help individuals accomplish much more than others. The book outlines the differences between the perspectives of top performers and the less successful ones. These concepts explain how everyday people can improve their lives using the ideas given there. Overall, the book can help anyone learn how to succeed and ensure their average day is productive and not simply busy.