'Counselling That Is Designed To Save A Life-Long Bond Is Marriage Counselling'
Marriage is said to be the purest relationship on earth and is said to be the origin of a new generation. In this, a man and woman are tied together in a bond with the vows like only death can separate them apart. But along with the type of love and arranged marriages in India, divorce cases, marriage conflicts, domestic violence, dissatisfaction, misunderstandings, and many more issues are being reported every single day.
According to the recent reports, the number of India still remains at the top of the list of countries with the highest divorce rates and, the cases of marriage conflicts and couple conflicts are taking a hike in its graph. But, the problem here relies upon is that people keep on suffering and never realize that they are promoting a toxic marriage and affecting the health of their mind, physique, and spirit.
Have you ever wondered why?
In this blog, you will learn about:
Major Situations Leading To Unhappy Marriages And Solutions

How Marriage Counselling And Relationship Counselling Can Help?

What You Can Expect From A Marriage Counsellor
Let's Get Started…
Major Situations Leading To Unhappy Marriages And
Solutions
They say that people can't thrive in the isolation of mind, physique, and spirit. According to an 87-year-old Harvard school of study says, you might have money, success, and all the luxuries of life, but being involved in happy relationships is a necessary part of a pleasant life. Being in relationships is a crucial phase of healthy and practical living.
A marriage today might have been a relationship yesterday. The couple starts off dating, connecting, and then getting engaged to every different earlier than ultimately getting married. Getting married to your loved one may appear like a dream come true. In contrast, it may also give up being a challenge to one's body, mind, spirit, and soul in some situations. Many humans hide their dark feelings and emotions in their marriage and hesitate to share while leading an unhappy married life.
Check Out The Situations Leading To Unhappy Marriages
Lack Of Love –
Love is the backbone of marriage. Without it, marriage is lifeless, unhealthy, and prone to end early at very initial stages. Marriage is an emotion and a bond meant to be loved, cherished, and not suffered. If you're no longer happy, blissful, and pleased in your marriage, you are not alone. "Only 60 per cent of human beings are happy in their marriages in India," according to the National Opinion Research Center.
If you think you are facing this issue in your relationship, there are amazing solutions that can help you out to improve your bond with your loved ones. Relationship counselling and marriage counselling is one of the most helpful ways as it allows both the partners to learn the basis and meaning of love towards each other and provide them with an amazing love marriage problem solution.
Not Being In Sync –
Often couples lack synchronization on the things that matter the most in a relationship and feelings that are the most necessary ones to focus on. It is effortless to get lost in your very own point of view and fail to see your partner's viewpoint on the necessary things, causing them to experience like they are not valued.
In order to build that sync between two partners, some amazing love marriage problem solution of synchronization can be a great help. If you are worried about how to solve your relationship problems, you can search for the best relationship and marriage counselling near me on the internet and contact Life Coach Ritu Singal for your help.
Not Meeting Each Other's Needs –
Every individual has the specific needs that they desire to fulfil, but sometimes a couple together fails to achieve a satisfaction point by fulfilling each other needs due to many different reasons. It may happen due to misunderstanding, lack of communication, lack of effort, etc. This situation makes a couple feel they are not on the same page and the not capable of each other.
Such situations lead to detachment in relationships and unhappy marriages. In order to resolve these marriage problems, Life Coach Ritu Singal performs some amazing tests in her marriage counselling as well as her relationship counselling problem that provides a couple with an amazing love marriage problem solution. Her mission of mentoring 1 million people to lead a happy life is one of the great examples of her hard work, which has saved many marriages.
Lack Of Trust –
Some relationships break due to the lack of trust between men and women. Trust is said to be the root of a relationship house and when the root of a house is named relationship, the walls become weak and that shatter anytime. Similarly, love and marriage are the two main walls that stand on the root of trust. Mostly, couples face this issue and suffer to live an unhappy life.
Small Conflict Turns Big –
Sometimes in relationships, we keep on ignoring things that affect us or we don't like about the other person. And later these things get triggered on the small things and they take end up turning around into the big fights that are non-resolving and leads to many major issues like divorce, domestic violence, cheating, etc.
A Complaining Partner –
Sometimes in a relationship, one partner always has complaints based on their expectations, past life experiences and present their anger on the small things when the other one in the relationship fails to fulfil any desire. Such kind of complaining nature and unnecessary demands lead to detachment in relationships.
There are many other reasons that are responsible for an unhappy married life like money problems, compatibility issues, lack of interest, and so on. If you want to know them in detail, you can read our previous blog, Why Do Couples Face Relationship Problems here.
How Marriage Counselling And Relationship Counselling Can Help?
60 out of every 100 couples are facing the above-mention relationship problems. Resolving such issues that cause problems in marriage life is very important. If you are facing such kind of relationship problems in your married life and you are seeking a love marriage problem solution, then you are definitely in the right place.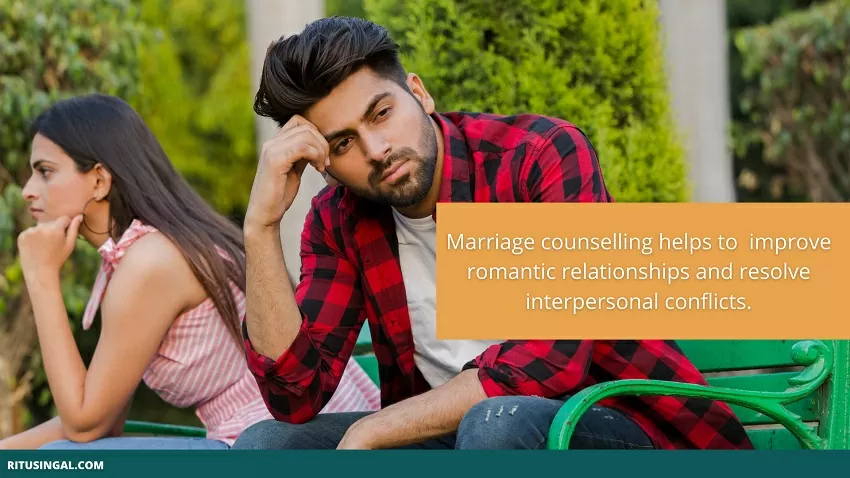 Marriage counselling, additionally known as relationship counselling, is a type of love therapy that helps couples of all kinds recognize and get to the bottom of conflicts and improve their relationships.
Through marriage counselling, you can make thoughtful selections about rebuilding and strengthening your relationship or going your separate ways.
It generally includes both partners. However, every now and then, one partner chooses to work with a therapist alone. The unique therapy diagram depends on the situation.
Marriage counselling can assist couples in all types of intimate relationships — regardless of sexual orientation or marital status.
Some couples are searching for marriage counselling to support their partners and acquire a better understanding of every other. Relationship counselling can also assist couples who plan to get married as a premarital counselling program.
Premarital counselling can assist couples to gain a deeper understanding of each other and iron out differences earlier than marriage.
Marriage Counselling Can Help You Resolving Your…
Communication problems

Sexual difficulties

Conflicts of blended families

Understanding Levels

Compatibility Issues

Money problems

Domestic abuse

Anger problems 

Infidelity
Marriage counselling might also be helpful in cases of domestic violence. If violence has escalated to the factor that you are afraid of, however, counselling is not adequate. Contact the police or a nearby shelter or crisis centre for emergency support.
What Can You Expect From A Marriage Counsellor?
Marriage counselling typically resolves problems between two individual and bring couples or partners together to a mutual understanding and love level.
Working with a counsellor, you'll learn skills to improve your relationship, such as:
Open communication

Problem-solving

How to discuss differences rationally

How to value your partner

How to find a love marriage problem solution

Meaning of love

Relationship terms and conditions

Understanding

Decision-making

Work together as a team
You'll speak about the good and bad parts of your relationship that are the major reasons for your conflicts. Together you'll study how to discover problems and then observe how matters can be improved.
Are you facing marriage life problems and unhappy with your marriage?
We aim at solving your love life problems and help you lead a happy life.
Comment below if you have any queries.