Nobody can deny that parenting is not an easy job in today's world. Earlier things were different but now everything has changed, technology, social life, lifestyle, relationships, every aspect has changed, and so the parenting styles.
I have talked about different parenting styles in my previous blogs. Your parenting style has a huge effect on your relationship with your child. 
Parenting is all about teaching your child essential skills and giving the right values and life lessons. However many parents encounter problems while doing so.
These issues may arise due to various reasons. It could be their thought process, parenting style, mindset, and habits to scold and blame kids for several situations. 
Let us understand this way. I know it's a modern world, and technology has become a basic need but that doesn't mean that parents should give smartphones to their little kids. Everything should be at the right time.
I told to my daughters that I will give them the best smartphone once they passed out of 12th and enter a professional college. But before that don't demand a phone from me. They may have felt that Mumma was being strict at that time, but later they understood that it was the right decision. 
Several parents visit me for parent counseling services because they are facing parenting issues. Sometimes it's so hurtful when I hear about their issues.
Some are worried because their children do not respect them, kids are hateful toward their siblings, children do not listen to their parents, children feel that their parents are their enemies, they do not love them, and many more unbelievable issues. 
In such situations, parents feel that they have failed to raise their children well. These feelings are making parents stressed and even depressed.
You would not believe even some people who are in their 50s come to me for parent counseling because they are not having good relationships with their children. They feel sad because their children are not like they have expected them to be. 
Parents need to understand that parenting begins right from childhood, there is no use in regretting later when time has passed.
People need to understand the role of parent counseling because it helps both children and parents in many ways. And most importantly, people need to understand the concept of parent counseling before assuming anything. 
What Is Parent Counseling?
When you become parents, it feels like a  blissful experience but steadily you feel that it's the most demanding job. It is quite easy to teach your little one how to walk, talk and go to the toilet. But when it comes to teaching them values and essential life skills it's not that easy. 
Many parents tell me that they have read so many parenting books, and watched many parenting tricks videos but still, they are not able to teach their kids what they want or their kids do not share things with them, and many other issues. So here the parent counseling services come in handy. 
Parent counseling intends to stock up parents with knowledge, tools, guidance, and emotional support without any kind of judgment. The counseling services are more focused on how parents influence the dynamics of your parenting and family. 
Parent counseling involves different modalities to help parents better understand their parenting style and then go deeper to understand the impacts of various situations on kids and how parents can transform their parenting styles depending on different situations.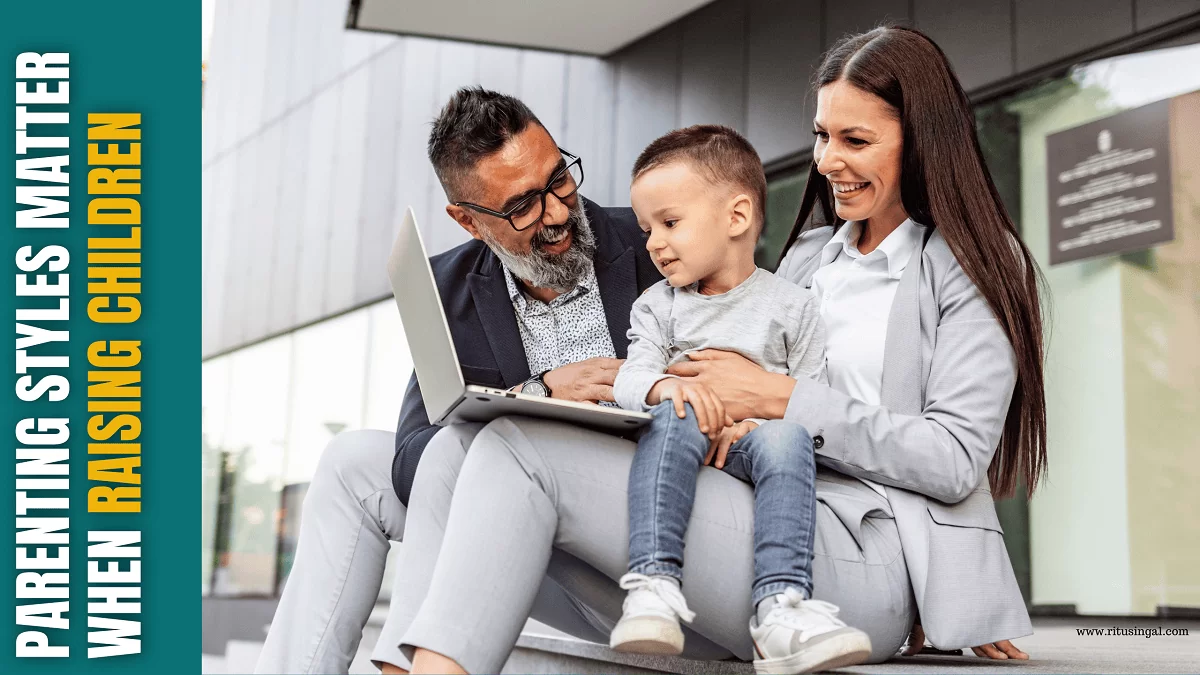 It's very simple to understand that if parents are well prepared to resolve and manage their personal issues, they can devote their complete attention to developing, maintaining, and restoring harmony in their families.
Parents hold a greater capacity to make necessary behavioral alterations that can benefit their families. 
Bursting The Myths About Parent Counseling With Life Coach Ritu Singal
Parent counseling services are expensive. 
Let me tell you something, the value it provides to your family and your relationship with your child, you will feel it is much cheaper. Every single session of parent counseling service is worth it.
It shows that my family is in crisis and weak.
Getting parent counseling has nothing to do with crises or weaknesses. It's just that, as parents, you care for your kids, you want to build an amazing relationship with your children and you are taking professional help to strengthen your parenting skills. 
I can talk to my family and friends so no need for counseling. 
Yes, of course, you can talk to them and ask for suggestions. However, when you consider counseling, you get professional help. You get rid of the emotional load you are carrying as parents without being judged. 
Counselors blame parents for child's matters
Parenting therapy is not about blaming anyone, it's about joining and creating a strong bond between parents and children. a counselor listens to both parents and children carefully without being biased. They are parenting experts not blaming experts. 
Who Should Seek Parent Counseling?
Every family has some issues, arguments, conflicts, and stress. What matters is how you handle and resolve these situations because that teaches the same to your children. Parent counseling services offer you fair-minded support and guidance that help you comprehend and recognize the requirements of your child and family, contributing to healthy relationships. 
I suggest every parent should attend at least one session to develop or enhance their parenting skills and to understand the parent-child relationship even better. However, parent counseling services are necessary if:
Parents are going through marital issues
Marital matters between parents have an enormous impact on your children. It is highly essential to work on your issues and resolve them to make sure the child does not perceive distorted insights for love and marriage. 
Parents are suffering from health conditions
If parents are suffering from any kind of illness as well as mental health problems, they may not be able to be completely present with the children. They may not be capable enough to accomplish all their parental responsibilities. 
Parents are getting separated or divorced
Parental separations and divorces are as much distressing for kids as for the partners. Being a  single parent comes with many challenges as they need to handle their children's emotional well-being. It may not be easy for children to accept the change. 
Parents are experiencing violence or abuse
If any of the parents are experiencing domestic violence or abusive relationship it significantly impacts the child. The child may develop fear and tension that further contribute to aggression. 
Parents are dealing with any kind of loss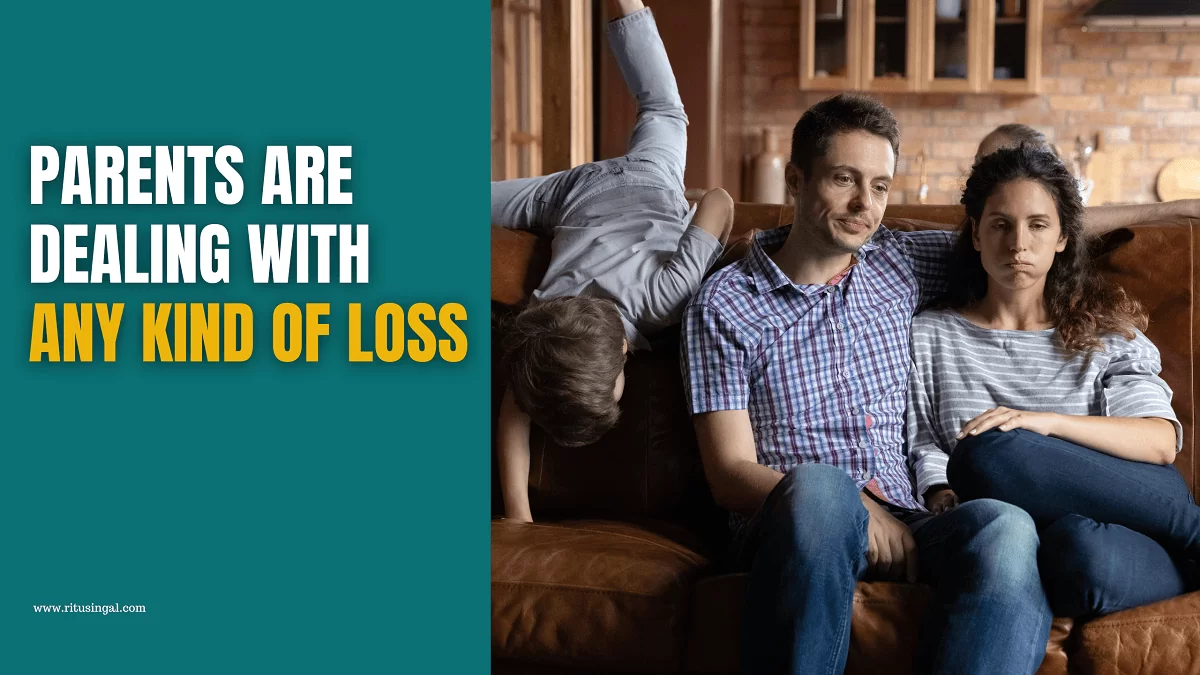 When parents are experiencing loss, be it a child, marriage, spouse, business, or job, can pointedly disturb the child just like the parent. In that case, parents feel stressed and may not be able to handle their parental duties. 
Parents are addicted to alcohol or drugs
Substance abuse is the most common issue across the world. It is most harmful when children see their parents addicted to alcohol or drugs. Such parents are not able to keep up with their parenting responsibilities. It may cause mental health issues in children. 
Parents are stressed about teenage children's matters
Sometimes children are the reason for stress, especially when you have a teenage child. They drastically transform within a very short period. Usually, parents are most worried about their teenagers because they are prone to substance abuse, bullying, and mental health. 
Parents are unhappy about their relationship with their children
Parents may feel that their children are not like they wanted them to be. Children do not behave well, they do not respect their parents, not loving towards their siblings, or do not follow the values you are teaching them as parents. 
What To Expect When You Embark On Parent Counseling Services
Parent psychotherapy is essential for parents encountering conflicts with their children and even partners. A lot of parents are worried about what will happen when they will get into counseling.
Many of them have already heard so much about parent counseling so I can understand what is going on in their minds.
So, let me clear your mind. Here is what you can expect once you begin with parent psychotherapy or parent counseling.
Learning and understanding different parenting styles
Different parents raise their children with different parenting styles. You can read my previous blog to know more about different parenting styles.
Parent counseling helps you detect your parenting style and how you need to change it depending on the situation. Because as your children grow you need to adapt to their needs, so you need to alter your parenting style. 
Understanding the family dynamics
Other than parenting style, what impacts your parenting is family dynamics. A parenting coach speaks to parents to comprehend the family, the role of parents and other caregivers and financial status, etc. The parenting expert makes you understand how family dynamics impact your child's development. 
Comprehending your child and you as parents
A parent-child counselor helps parents attain a more profound understanding of their children and themselves. They can help parents recognize the issues that the child may not be able to understand or express to them. This way counseling can bring value to the parent-child relationship.
Presenting clarifications for your choices and decisions
Many parent-child conflicts happen when your child doesn't agree with your parenting decisions. Most parents who visit me complain that their children are never happy about their parenting choices. It's the story of almost every house. 
A parenting coach teaches you how to give genuine explanations for your decisions to make children understand better. You learn how to make your child comprehend the thought process behind your parenting choices. 
How Parent Counseling Will Benefit Me And My Family
Seeking expert guidance can help you and your family battle with much bigger challenges. Parent counseling services ensure that every concern is addressed and handled properly.
Parent counseling services help you learn tools and techniques to recognize the issues affecting your children. It prepares you with communication tools to make your child comfortable while sharing anything with you. 
I always said to my daughters that even if they commit a murder, do come to me and tell me. Do not hide anything from me. I am your mother, I am always there for you, and you can share anything with me. I will never judge you, no matter what.
Today, I feel so glad that my daughter is so comfortable sharing every single aspect of their life with me. This comfort doesn't develop overnight, you need to put your efforts to make your children feel at ease with you. 
So here I am throwing light on the benefits you will get when you begin with parent counseling services. 
> You better understand your inherent parenting style. You will know the good and bad of your parenting pattern, it will help you work through the bad ones and maximize the good ones. 
> You learn conflict-resolving skills and when you practice these skills your child will also learn these skills. It will teach your child that conflicts are normal, you just need to handle them well. 
> Counseling help to get closer to your kid. Teenage kids mostly try to keep their parents at bay, even if you are close to your child, they may not tell you what is happening in their lives. A parenting coach helps train you how to handle such situations. 
> You learn how to correct your child's behavior without making them feel bad. A therapist can help you recognize grave behavioral issues that can impact your child's mental health. They work with you to minimize or shut down these behaviors.
> Parent counseling improves communication lines within the family. As I always say, communication is the key to any relationship.
Counseling helps parents and children understand their roles and demonstrate the excellent outcomes of honest communication. It makes them understand one another supportively without coining conflicts. 
> Transform yourself as a confident parent. With parenting counseling, you get an unbiased view of the parenting issues you are facing and ways to handle them smartly.
It makes you confident about your parenting abilities as you learn different ways to comprehend your child's emotions and needs even better.
Read: Emotionally Disturbed Child
Parent Counseling Services May Take Time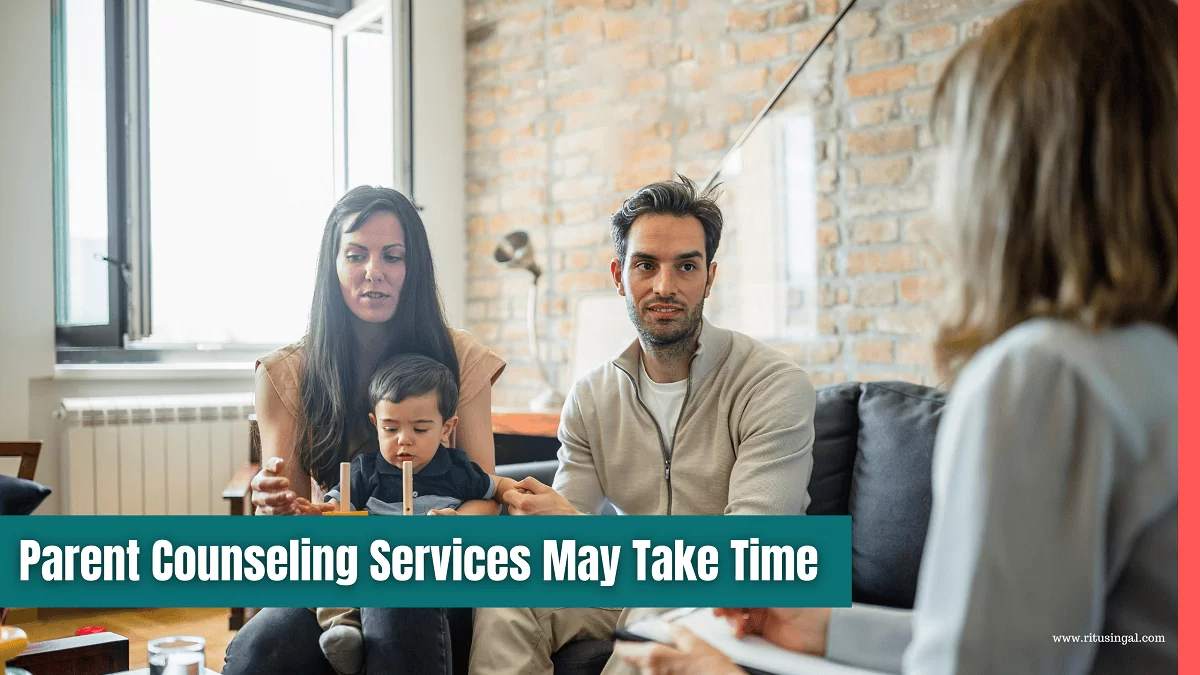 Some of the parents are in a hurry to get results, even from parent counseling services. Well, I can understand their hurry, they want to make things better as quickly as possible.
You may want to overcome conflicts as soon as you begin with psychotherapy by successfully implementing newly learned skills and techniques. 
Parent counseling is definitely a result driven but noticeable results don't appear overnight. It may take some time to bear the expected fruits. So have patience, and do not assume that everything will be satisfied immediately. 
Read:
Indian Parenting: Common Mistakes and Solutions
Parenting Techniques for Working Parents
Bringing Up Parents: A Modern Guide to Parenting in the Digital Age
Concluding Words
All parents are good and put their best efforts to raise their kids well. If your kids are not meeting your expectations and you are considering parent counseling services that don't mean you are failing as parents.
However, that means you want to enhance your efforts toward your parenting responsibilities. Getting into counseling means you care for your children and you want to be the best parent for them. 
Counselling aims to equip you with all essential parenting skills. Do not fall for myths or any misinterpretations instead consult a parenting coach and get answers to your queries. Step out to enhance yourself as a parent and you yourself will know its worth.