Time management is among the most valuable, both personal and professional abilities that can take you further throughout your life. If you don't handle your time well, you will reach the confusion state, eventually. Time, as something of an integral part of life, needs to be viewed in the most polite way. Only if we aspire to practice the art of time management, would we make a meaningful difference in our lives.
Including your family, your wellbeing, and your personal ambitions, the things that are essential to you have all taken a passenger seat to your time's constant demands. It would indeed be great to reap the fruits of your work, but you feel bad for anything else that you don't get done or hear the nagging about previous ventures because of customers.
You may have attempted to incorporate time management techniques, but either they did not suit your style (overly regimented or too cumbersome), or they did not address the problems you and your actual needs encountered.
Working with an established time management coach, become more effective, resolve procrastination, and help you to concentrate on the limited amount of tasks that you are focusing on acquiring success and growth. 
I'll discuss what a time management coach is and how time management functions in this post. I will assist you in identifying your time, resources, and focus whether you believe you might not have enough time in the day or are not making the change you like. As a result, you can enjoy greater independence of time and fulfill your goals even faster.
According to life coach, Ritu Singal the most influential thing that is causing the problem for our productivity and time management is procrastination. Yes, leaving the task for later or avoiding them is one of the major aspects of your life that keeps pulling you back. There must be something in your life that you have wanted to do for a long time now, but you must put it for another time. There could be many reasons, such as you have little time or opportunity to do that task. It could be fitness or something related to the business that you wanted to accomplish, but you have been pushing it around for a long time now. This is called procrastination, and you must get out of it so you can get things done; hence you will be able to properly manage your time. 
What is Time Management?
Time management is the approach to organizing the time available and regulating the number of hours spent on individual projects in order to function more effectively. For some individuals, good time management is better than for others, but anyone should develop routines to strengthen their time management skills. Your job and wellbeing can suffer without good time management, and it can lead to many mental and health-related issues. 
Producing poor quality work

Missing deadlines

Increasing your stress levels

Ruining your work-life balance

Harming your professional reputation
Why is Time Management Necessary?
You can use different time gaps, change your sleep time, build lists, etc. There are several approaches to solve the challenge of time management. But if you don't really know why handling your time better is crucial for you, you need the guidance of a time management coach. You won't if you don't have the drive to use them. You would look at the larger picture first. Get a grasp on why it's necessary to use your time efficiently and what you expect to benefit from it. 
Time is limited. There are just 24 hours a day, no matter how you arrange it. That's for you and for your colleague, who seems to not be able to do a fraction of the quantity of effort you do. But it also extends to I have rewarded the old coworker who routinely accomplishes better than you. Recognize the value of approaching this restricted resource if you want to progress through the ranks.
You can accomplish more with less effort. You increase your ability to concentrate as you know how to take care of your time. And improved effectiveness comes with greater concentration, so you don't feel unmotivated. You will continue to breeze through activities faster.
Get the work done on time
Managing your time correctly means assigning each job on your list to a particular time block. Many individuals use time management to encourage themselves to complete the work over several days or complete it before the due date to provide such a buffer for any problems that might occur. If you prepare the time required to do the job correctly, you will still be able to meet the deadlines.
Reduce the stress
While you have a complete list of things to achieve both at home and in the workplace life, it's easy to get nervous. Effective time management will help you organize your to-do list and set the time necessary for your most important activities aside, so you know precisely what you need to do and just how much time you have to finish it all. Prioritizing and allowing yourself enough time to complete your activities will help minimize your levels of stress.
Boost your confidence
You'll feel a sense of pride and faith in your skills as you handle your time well and effectively reach your deadlines. A big motivator that will motivate people to further develop their time management skills and take on new career prospects is to regularly complete your regular to-do list.
Be more efficient 
You will become more focused on work as you learn how to handle your time wisely, which helps you to do something with the time available. For instance, if you have 15 minutes available before a meeting, instead of having to focus on a vast project, you can execute a few simple tasks and save the larger tasks that require more brain capacity when you have a significant amount of free time. And in less time, you'll be prepared to operate more quickly to accomplish more.
Free time is necessary. In order to calm down and unwind, everybody needs time. Sadly, plenty of us do little about it, however. Most of us are hard-pressed to find even 10 minutes to rest, do nothing, and between work, family obligations, errands, and repairs on the house and the yard. Getting strong time management skills lets you find some time. You get things done while you're busy. During your day, you gain extra time, which you can use later to rest, unwind, and plan for a full night's rest.
Self-discipline is valuable. You leave no room for procrastination while you exercise effective time management. The stronger you get at it, the more you learn about self-discipline. This is a powerful ability that can influence other aspects of your life where you have been prevented from completing an aim through a lack of discipline.
What is a time management coach?
A time management coach allows you to make your expectations transparent and afterward works for you in less time to accomplish the objectives you seek.
A time management coach will improve your work, not harder, because of their time management experience, by standardizing your time, resources and focusing on a few tasks that yield greater results. Coaching in time management is about encouraging you to find the things that you love to do and are good at. The ones that yield the best outcomes, and so spend on those tasks most of your time. Being able to more effectively handle the time, being more efficient, and more concentrated are the major advantages of partnering with a mentor for effective time management.
Time management and productivity coaching may be right for you if:
You still sound like you're running late and are frequently in a reactive state.

You have several things to do, that choosing what to do first sometimes becomes a massive obstacle.

At the last moment, you barely get stuff done.

You cannot assign duties to others easily

By continually reading incoming messages from email, texts, or social media, you are distracted

To keep records of what you need to do, you focus on memories, post-it notes, paper pieces, toilet rolls, etc.

With preparation, prioritization, and coordination, you face difficulties.

You face relentless pressures that others put on you and sometimes feel out of control over your own schedule.
At the risk of work-related responsibilities, the things that are most essential to you keep being held back

You are trying to fulfill the demands of a new career, a new child or partnership, or a new organization.

You conclude that a lack of

effective time management

skills pushes up your income prospects and career growth opportunities.
How Time Management Coaching Can Help You?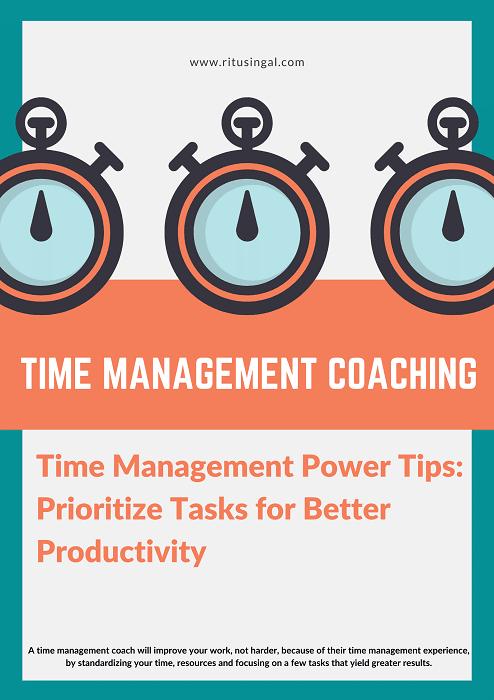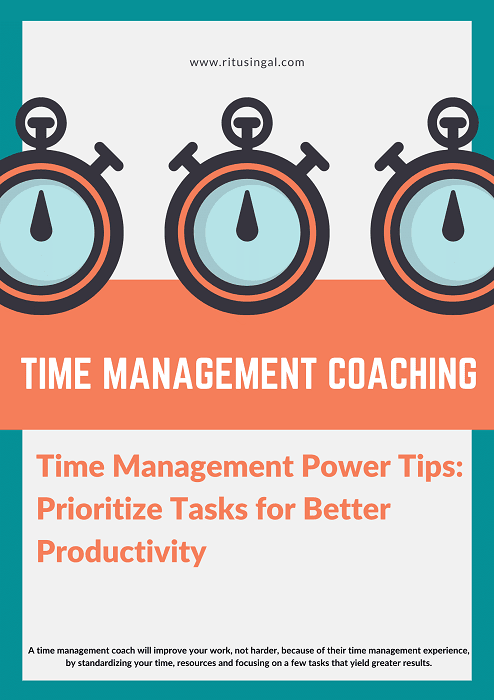 As a time management coach who encourages entrepreneurs and business owners to turn their objectives into reality, I look somewhat differently at time management coaching.
Coaching in time management will help you gain more independence of time in your organization and life and help you in achieving better outcomes in less time. Time management coaches enable their clients to become more concentrated and effective on the things that are important to them by making the client get specific on where they are investing their time right now and how they plan to spend their time down the road. You can contact me if you wish to learn the best ways to manage your time for higher productivity and self-growth. 
Here's how a life coach or time management coach help people-
Better work-life balance
Spending more and more hours in the office is convenient, and you have less time to spend with the people who love you the most. By helping you understand what's most essential to you, time management coaching will help you find a healthier work-life balance.
From this clarity emerges an emphasis on handling your time at work more efficiently so that you can spend more time at home. This time, they can spend freedom resting, enjoying more time with family and friends and family, or doing activities that are crucial to you.
Recognize the preferences 
Self-awareness of somebody's time management priorities or attitude, such as multitasking or being constructive, may deepen an appreciation of where you can fail as your attempts at improvement go against current behaviors. But note that even the most adaptable personal qualities are talents, not personality, which has the greatest ROI on attempts to self-improve.
No more distractions
Distractions are amongst the greatest killers of production. You will all be diverted from your goals and derail your timetable by social media platforms, laptops, and noisy colleagues. A third of workers were interrupted by as much as three hours of the workday, as per a survey by Think Capital. Try leaving your mobile hidden in a desk drawer throughout the day or using a browser extension to hide the pages that are most irritating to you if you think those distractions are even more of a temptation.
Developing task organizing skills
Unfamiliar yet substantial tasks also have steeper curves of learning and time constraints that are more variable. It's not really about organizing your job to help control your life to improve arrangement skills, and it's also about taking responsibility for one's actions and structuring your work around them.
Life Coaching and You
Life coaching is vital, and then you and your ambitions are essential. Any of these is a monumental challenge leading to its own setbacks and hurdles, to help chase your goals, or to help create foundations for or multiply your next entrepreneurial endeavor, or to inspire you to conquer your insecurities. I can help you cushion each slide, lift you when you're down, and inspire you to keep going. They pull on their intelligence and affection to help you get out of the top.
It is not hard to understand time management concepts, but you have to be committed to building time management strategies into your everyday life to get results. To see if you build such skills into your everyday practice, a knowledgeable mentor will be there. You can find that you can accomplish your goals by setting goals, organizing tasks and removing time-wasters, and doing this every day, but you still have more time for those individuals and pastimes that are most essential to you.
In case you are looking for the best life coach who can help you in learning the effective way to manage your time, so you can be more productive as well as have a healthy lifestyle, you can get in touch with life coach now.